One of the European Death Metal leading bands ever, Pestilence, decided to make a comeback in the extreme Metal scene after a long period of silence! With a new label and a brand new opus, "Resurrection Macabre", Pestilence is ready to fight to protect its place as the first Death Metal band hailing from our continent! To learn more things about this awesome band here you have the last statements I've took from band's leader and one of the Death Metal icons, Patrick Mameli!

Arcana Noctis: Hello Patrick! First of all I'd like to thank you for this awesome and unexpected comeback! Could you tell us how should we thank for this surprise that seems to be unimaginable?



Patrick:
It feels just great being back. We have almost the whole "Testimony Of The Ancients" line-up complete. The only difference is the mighty Peter Wildoer on drums!!! Always expect the unexpected from Pestilence.
Arcana Noctis: Here you are after 15 years of silence; a very good moment I'd say if we take into consideration that bands like Cynic and Carcass, to name but a few, are back in business! What do you think about the evolution of Death Metal in the latest 15 years?

Patrick:
I guess a 15 year brake get's the blood flowing again. We were there, almost from the beginning, together with Death and Possessed leading the Death Metal movement so it's like riding a bike, you never really loose the feeling really with it. It's getting more brutal and twisted (the new style Death Metal), which is a good thing. The only thing that I don't like about it is the no structure-song using a million riffs.
Arcana Noctis: Could you please tell us how/what do you feel against those who have rejected your "Spheres" album, and, why not, as a Death Metal musician who's back after 15 years of silence?

Patrick:
I really don't care that much about opinions, everybody has one and that's cool. Maybe "Spheres" was not such a good move looking back at it now hahaha.
Arcana Noctis: I'd like to talk with you a little bit about your past; and I like to start with the very beginning back in 1986 when you started the band. Compared to that period, what do you feel today when Pestilence is back in the extreme Metal scene; and tell us also what was the main reason to start the band, 23 years ago?

Patrick:
Well, we are way more mature and professional than back in the good old days. But the core why we started Pestilence in '86 hasn't changed. The love for brutal music. We just are better musicians now. The scene has kinda stayed the same. A lot of opinionated people that are haters... but a lot of cool people out there as well!!! Some people just don't understand how the business works and sometimes that's frustrating.
Arcana Noctis: Band's 2 first releases where 2 demos called "Dysentery" and "The Penance", the second one being considered as a very professional demo at his time! Could you please tell us a few words concerning these first materials under the Pestilence name?

Patrick:
Two school friends, Marco F. and I hooked up with German Randy M. through an ad. There was almost no extreme music in The Netherlands at that time. Recording our demos was our first step. We listened mainly to Death, Possessed and Slayer and one can hear the influence a lot. So we didn't have our own sound yet.
Arcana Noctis: If I'm not wrong you were behind the recording sessions of most guitars, drums and vocals. Was it difficult to put together all these elements? because as I can see you did the same thing on band's last and brand new album called "Resurrection Macabre".

Patrick:
Well, I only played all guitars on this album, where as I mainly did everything on the demos "Malleus Maleficarum" and "Consuming Impulse"...
Arcana Noctis: 1987 seems to be a very important year for Pestilence, because you found a professional drummer, Marco Foddis, and you've been joined by Martin Van Drunnen who replaced Colli as a bassist! Could we say that thanks to Pestilence, Martin Van Drunnen is today probably the best bassist ever in the European extreme Metal scene?

Patrick:
Martin can't play bass at all and he doesn't want to either I think. The best bass-player in European extreme Metal? Jeroen Thesseling?!
Arcana Noctis: Together with the 2 persons I've mentioned above and with Meinhardt at the second guitar, you've recorded a song called "The Hatred Within" for a Rock Hard compilation released in 1987 and band's 3rd demo called "Antropophagia"! What all is about?

Patrick:
I only know of "The Hatred Within" song for the Teutonic Invasion album but a 3rd demo?? Hahaha we've never done one...
Arcana Noctis: Thanks to this last demo you've signed a deal with a much known label called Roadrunner. What were your feelings at moment concerning this accord with this U.S. label, if we take into consideration that your label mates were Sepultura, Obituary, Deicide or Fear Factory?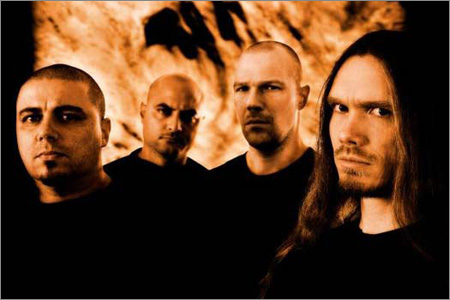 Patrick:
We knew that this label was big and could get us somewhere. We felt at the time very comfortable but after a while we felt that we didn't get enough support because they were signing so many bands at that time.
Arcana Noctis: Your first album "Maleus Maleficarum" saw the daylight in October 1988; an album that you thought to be "an ultra Death Metal", but in fact it was closer to Slayer/Testament than Possessed/Death. What could you tell us about this first official release and about your studio work with Kalle Trap (Mad Max, Assassin or Paradox)?

Patrick:
We never said it to be Death Metal. It was more Thrashy than anything... We were young, didn't know what to expect in the studio, we didn't have our own style yet and I didn't know how to produce an album. Listening back to that album it was our steppingstone to better and bigger.
Arcana Noctis: What was the feedback that you received on "Maleus Maleficarum" and how did you promote it concerning the live activity?

Patrick:
It was received pretty OK at that time. We toured a minitour with D.R.I. for this album. Nothing major.
Arcana Noctis: Soon after that Meinhardt leaves Pestilence to form Sacrosanct and he took with him Foddis, and together will record band's first album; but Foddis re-join Pestilence after a while. Could you tell us please why Randy is gone and why you agreed with the comeback of your drummer?

Patrick:
I don't know the exact reason why, but our personalities just bounced a lot. I guess Marco wanted to try something else... but returned soon to the heavy music!!
Arcana Noctis: One year later here you are with "Consuming Impulse"; a material produced by Harris Jones, but with a new guitar player called Patrick Uterwijk! What do you have to say concerning band's new chapter and where did you found Patrick, a person that seems to be a very closer friend of yours if we count here that you asked him to join Pestilence again and here you are both on the last "sin" made by Pestilence?

Patrick:
This album was our answer to Death. We were developing our own style and sound more and more. Patrick gave an extra edge with his beautiful leads. We met him when they supported us on some show. He played in a band called Theriac. I asked him after the show and he was exited about the idea of joining Pestilence.
Arcana Noctis: Many people said that this CD has an extremely high technical level and a powerful force à la Death and a vocal ferocity closer to Obituary! Do you agree with all these words?

Patrick:
At that time it was the best we could do. Martin's voice was (after a huge fight in the studio) great on that album. It was not a super technical album though in our opinion. A lot has to do with the sound though. We used lots of flange on the guitars!
Arcana Noctis: Very soon after the recording sessions of this second album you were labeled as progressive Death Metal! What will be the major difference between the classical Death Metal and the progressive one?

Patrick:
Well, progression just means that there is progression from the last thing you did to the new one. "Testimony Of The Ancients" had a new focus on our own music. One becomes a better musician. Our latest album "Resurrection Macabre" is just a reinvention of the Pestilence style.
Arcana Noctis: If I'm not wrong at that moment there were just a few "progressive" Death Metal bands, such as: Cynic, Atheist, Nocturnus and Death! How do you see the present progressive Death Metal scene compared to what happened 20 years ago?

Patrick:
I guess, more riffs, more tempo changes and better musicianship (not always hahaha)
Arcana Noctis: The live activity that you had after that was a very interesting one, because you did tours with D.R.I. in 1989 and with Autopsy and Morgoth in 1990. I assume that the feedback was awesome, am I right? And I like you to tell us what was the main difference between the 2 materials and, why not, the point of view from Roadrunner's corner?

Patrick:
Again, we were young and didn't know what to expect. The crowds were so cool though. Although D.R.I. draws of course total diffirent crowds, but it worked. Autopsy and Morgoth was such a cool tour. Both bands just fitted to our style. Roadrunner didn't do that much for us. Especially the Autopsy tour we arranged ourselves.
Arcana Noctis: Although "Consuming Impulse" was sold in more than 60.000 copies, Van Drunnen leaves the band to form Asphyx! Why did he leave the band and how did you found his substitute Tony Choy? And don't forget to tell us if you asked him to join Pestilence's new travel in the Death Metal universe?

Patrick:
He was kicked out because he wasn't too professional at that time. But that's old news. We were recording at Morrissound in Tampa, where Tony was recording for Atheist. We became good friends and I asked him to do the album, that's it. Because I knew Tony, I just emailed him asking him to record for "Resurrection Macabre", and he said yes.
Arcana Noctis: Together with the new bassist and with the producer Scott Burns you are back in business with the 3rd album called "Testimony Of The Ancients"! Could you please tell us a few words about this material, which seems to be considered as the best album ever recorded by Pestilence?

Patrick:
Well, together with the sound created by Burns and the writing I did for that album, it was a magical combination and formula for that time. Using keyboards and intros was new for us and the Death Metal scene. Yes, a lot of fans think that this is Pestilence's best effort. A lot of people like "Consuming Impulse" more though. We personally like "Resurrection Macabre" the best.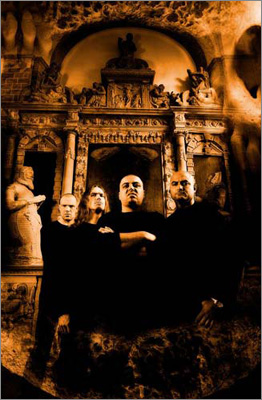 Arcana Noctis: Compared to band previous materials how do you the new one and what was the general opinion considering it?

Patrick:
This is our most brutal and skilled album. A lot of fans were anticipating a "Spheres" part 2 but we didn't want to go there, since the album was bashed by so many back in the days. And now people are disappointed we didn't go there!!! Strange hahaha. Most of the fans really like the new album though.
Arcana Noctis: The live activity shows us a Pestilence in a great form and as one of the biggest Death Metal names; because together with Cannibal Corpse, Death and Morbid Angel you played in the German Battle Of The Death Metal Kings in 1991, and with Malevolent Creation in the Western Europe but with a new bassist called Nick Sagias (ex. Overthrow).

Patrick:
Nick didn't play many shows with us though. He really didn't fit in on a personal basis. So we had to let him go! That was an amazing line-up right? All these cultbands together on one bill!
Arcana Noctis: Your lucky star is a very shining one and here you are in some tours in the U.S. and in Japan, but in Europe too in the summer of 1992 together with Torchure! Could you please tell us how you managed this period as Rock stars did?

Patrick:
We never felt like Rockstars.....and we never did Japan. We wished!!! Maybe in the future we will go there. Yeah, we did a mini tour with German's Torchure. It was fun to do. Nice guys!
Arcana Noctis: Very soon a new track was recorded for a new compilation called "Monsters Of Death" released by Roadrunner. Do you still remember all your mates present on it?

Patrick:
I never really knew about that one so I really don't know about that. Roadrunner released a lot of stuff where we were featured on without us knowing.
Arcana Noctis: One year later you are back with band's 4th material called "Spheres", but with a melodically Death Metal touch too. Could you please introduce us this material considered by many as a very controversial one but a cult album today?

Patrick:
We were listening to a lot of Jazz and Fusion at that time. It influenced us so much that it killed the Pestilence style. The change was too big. We now realize this. It's cult now, but a lot of fans dropped us like a brick. And so did the record company.
Arcana Noctis: Although "Spheres" was recorded on almost the same way as "Testimony Of The Ancients" something makes a lot of people to reject this material and very soon you are in a big fight with Roadrunner who seems to be dissatisfied with the sales. What is your point of view concerning this subject and why you were so angry against the Death Metal community?

Patrick:
We changed sound, rhythms and vocals so much that we detached our fan base with it. We wanted to get out of the Roadrunner contract anyways so that was good. We didn't care too much anymore about record sales at that point. I was not being angry but rather frustrated. We were trying to do something different than most Death Metal bands at that time. And when fans drop you, in a way one is very limited to try new things. People asked me why I was not headbanging anymore. Well, I have to sing and play million notes at the same time. So they twisted it around that I said headbanging is stupid and so were the fans doing it.
Arcana Noctis: Could you explain why "Spheres" is so acclaimed today, although 16 years have passed since the release of this CD? Do you think to re-record this material to make it more contemporary than it is today?

Patrick:
I have no clue. Maybe fans are more open-minded nowadays. Nope, we don't want to re-record any of that material. We do play "Mind Reflections" live.
Arcana Noctis: After 15 years behind the scene do you think that you lost something from the Death Metal mainstream? Do you have regrets thinking that you lost a lot of good things all these years?

Patrick:
For a long time there was no real big Death Metal scene. I think it was a healthy stop for us, since we all felt really burned-out by the music industry, playing and rehearsing and touring. I got married and have two sons, so I didn't really miss anything.
Arcana Noctis: Although you stopped Pestilence activity, Roadrunner Records have released a sampler with band's most important songs under the name "Mind Reflections - The Best Of Pestilence"! This was your choice or another step from your contract with Roadrunner Records?

Patrick:
They didn't even ask or contact us about that one.
Arcana Noctis: Than nothing! ...for almost 15 years! And let me tell you that you lost a lot of interesting things, even if many people said that the Death Metal was almost dead in the 90s. What made you to reform Pestilence?

Patrick:
Of course Death Metal was dead for a long time. But I had to pay the bills. Get a job and work for a living!! After 15 years it started to itch again. Especially listening to Hate Eternal with Roddy on drums! I knew I wanted to go extreme again.
Arcana Noctis: I heard that after hearing a new album signed Hate Eternal something changed inside you, and a burning flame long time thought to be lost has arise again!

Patrick:
Yeah that's so true. So thumbs up to them!
Arcana Noctis: Together with C-187 you recorded an album for Mascot Records! What is all about and tell us why did you choose to sign to Mascot with Pestilence?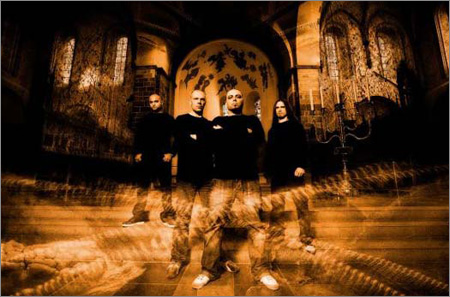 Patrick:
I had a 2 album deal with Mascot, and since C-187 wasn't received well, we decided to do another Pestilence album.
Arcana Noctis: After one year of composing the new lines for band's last material, here you are with "Resurrection Macabre"! Please try to introduce this CD to our readers by telling us the necessary technical details that we should know about it and a short introduction of each song if you don't mind!

Patrick:
It's Pestilence most brutal and skilled album! We think personally it's our best effort. Recorded in Denmark with Jacob Hansen. All the songs are very different from each other but I don't think introductions are necessary because I want to leave things open to the listeners imagination.
Arcana Noctis: What it brings new and where we could find the links with "Spheres"? Also, could you tell us what will be the major differences between the last album and all your previous official releases?

Patrick:
It's Pestilence most brutal and skilled album! Also, we did not rehearse at all for this album. So that's why it sounds so fresh and full of enthusiasm!!!
Arcana Noctis: Who did the cover artwork, what it represents for you and in which compartments it fits with the lyrical and with the musical contents?

Patrick:
That was done by Marko Saarelainen, and he did an awesome job, we think! We didn't want to go back to using Seagrave because we feel that we needed to go in a different direction with this one. This album is 16 years later and so it needed also cover wise being updated to 2009.
Arcana Noctis: Are you happy with the new collaboration that you have with Mascot? What are your relations and what is the general opinion after a so acclaimed CD called "Resurrection Macabre"?

Patrick:
Our relationship is good with Mascot and I think they did a good job promoting "Resurrection Macabre"! It's being received very well we think. Of course one cannot please everybody but we try!
Arcana Noctis: I know that you are going to play the French Hellfest in July 2009, and I assume that you have some other live acts to be seen this year. Can you reveal us something?

Patrick:
Everybody should check our MySpace and website frequently because we keep our plans and shows updated every week!
Arcana Noctis: In the end, what will be band's future plans; is there something foresee for a new album, because I suppose that you have accumulated a lot of interesting ideas in the last 15 years?

Patrick:
Yeah, for sure we will start working on new material a.s.a.p. We have an endorsement deal with Ibanez and just got our 8 string guitars. We think that this will even improve our style. "Resurrection Macabre" will be topped with this one!!!
Arcana Noctis: That's all for now my friend. Thank you a lot and here you have the last word to conclude the interview!

Patrick:
That was a long ass interview. I lay myself to rest now. C-ya.